Here we would like to discuss relationships and sexuality.
What is the definition of a 'good life'? Surely, part of what makes life worth living is having relationships that are fulfiling. For each and every one of us, we seek a sense of closeness, warmth and 'belonging together' with significant others.
Intimacy is a part of human existence: you meet someone, you're attracted, you start seeing one another and dating. Before you know it, you're falling in love, developing an intimate relationship and having sex. Eventually, you know that you've found your 'life partner', and decide to make a commitment, or even get married and raise children. These are milestones in life that everyone should be able to experience, no matter what your biological indicators of sex are!
Often times men and women with AIS and other intersex conditions avoid intimacy and sex, or find it difficult to become aroused. Doctors often misdiagnose this as low libido, but more often than not such avoidance is the work of the negative, self-doubting, little voice in the back of your head. This is the same voice that you must harness to confirm to yourself that you are indeed a sex goddess / god!
As our good friend Professor Milton (Mickey) Diamond often likes to say; "The biggest sex organ on the human body is in between your ears, not between your legs!"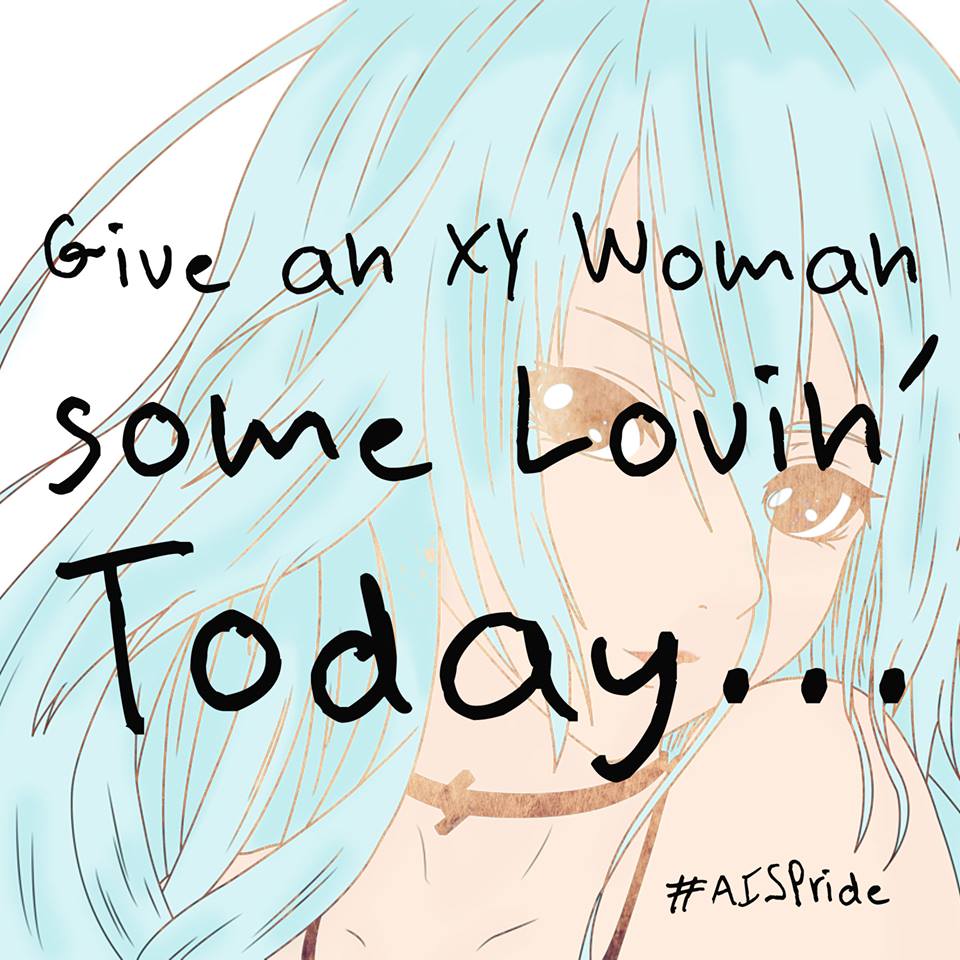 A Message from Sandra
Each person's experience of AIS is different but there are probably very few of us who don't feel their sexuality isn't affected by it in some way. It's very difficult not to feel some degree of insecurity about your sexuality when your reproductive organs and/or genitals are different from the norm.
For me with CAIS, having a short vagina and no female reproductive organs has been difficult, more psychologically than physically. For those with PAIS it may have been the appearance of their genitals or for others scars left by surgery that create feelings of inadequacy or insecurity. Whatever the degree of AIS there is sure to be at least one thing that sticks in our minds as being a point of fear and trepidation, particularly when sexual contact with another person is anticipated. To live with this fear can severely hamper our ability to enter into intimacy with someone and to feel confident of our worthiness to be loved, especially during the difficult adolescent years.
I feel at times afraid that I am not good enough for a relationship, that I will just do whatever I think will please the person I am with, and feel panicky at the first sign of them being ambivalent or not so interested. It's as though I feel I have to be twice as beautiful or twice as attentive and caring to make up for the feeling of inadequacy in my own femaleness.
Learning to express our sexuality confidently is probably one of the most difficult challenges AIS people face. No matter how many times a lover or partner may tell us that our physical attributes don't matter and that we attractive and sexy as we are, there is often a nagging doubt deep inside that tells us that it does matter - we're not quite right somehow, no matter how physically attractive we may be.
As a teenager I badly wanted to have a normal female body. I didn't understand why my vagina was the way it was, and was fearful that I wouldn't be able to have intercourse, or even more scary that if I could it wouldn't be satisfying for the man I was with. I worried that I might feel rejected or humiliated if things didn't go well. Time has shown me that I needn't have worried so much - my vagina did stretch and men I've had sex with seem to have had no problems. The insecurity is still there, however, and colours any potential relationships that come my way.
I guess it is up to each of us to recognise these feelings in ourselves and find our own way towards healing them in whatever way we feel is right for us. I've had much success with this by doing something as simple as buying some sexy lingerie! It helped me to express my feminine side and to feel more comfortable with looking attractive. It was a big self-esteem boost! I've begun to trust my own attractiveness as a woman and am learning to let myself be vulnerable without compromising my own feelings and boundaries. I'm also letting myself acknowledge my sexual desire more often and be more confident in expressing that.
For AIS people, our awareness of our own difference may at times lead us to try too hard to impress a prospective partner or to not really just be ourselves. If you're not comfortable with who you are it's unlikely you're going to want to reveal yourself to someone else. But with a gradual build-up of trust and shared experiences it's possible to feel comfortable and secure enough with someone to be able to discover intimacy and love... at least I hope so!
So to those of you who, like me, are still single and really don't want to be, don't give up hope!
There are plenty of others feeling similar to yourselves lonely and fed up with dealing with everything on their own. An intimate relationship with someone might be scary when you have to tell them things about yourself that may be confronting for them to hear, but from my own experience people are usually much more open-minded and supportive than I expect them to be. Telling your partner about your AIS can be an opportunity for both of you to come closer together and be a source of strength in your relationship. If you make a commitment to support and protect yourself in the best way you can, you can't fail to win!

Personal Massagers - By women for women
Candida Royalle, a member of the American Association of Sex Educators, Counsellors and Therapists (AASECT), has created the 'natural contours' line of discreet, high-quality personal massagers. They are designed specifically for women who seek ways to safely and privately explore their bodies and capacity for pleasure, and many find that introducing a personal massager improves a couple's intimacy and communication.
These small technological wonders can also bring needed relief to stressed muscles in such areas as the neck, shoulders or back.
For more information, visit their website.