A new name for Intersex Awareness Day 2019
October 2019: On the eve of Intersex Awareness Day, internationally and nationally observed on 26 October each year, one of the oldest intersex group in the world is launching a new name, branding and website.
Intersex Peer Support Australia (IPSA) will carry on the important work of the 1985-founded Androgen Insensitivity Syndrome Support Group Australia (AISSGA) which for more than three decades has been run for and by people born with variations in sex characteristics and their families, providing Australia-wide peer support, information and advocacy.
Elise Nyhuis, President of IPSA said, "The new identity will make us more visible to government agencies and support funders, and is more inclusive of the more than 40 known intersex variations, our diverse community and their families."
"Our organisation advocates for and provides peer support to its members and the wider intersex community, focusing on the lived experience of having intersex bodies that physically differ from stereotypical, medical notions of male and female.
"The intersex community in Australia is strong and growing as people come out of hiding to stand together in the face of continued challenges from medicalisation, stigma and discrimination, shame, mental health issues, social inclusion, access to affirmative healthcare, parenting and human rights protection from medically unnecessary medical interventions on intersex children.
"Beyond our core work of providing intersex peer support, IPSA advocates for intersex issues through educating service providers, liaising with medical professionals, conducting policy review and consulting with government/NGOs, as well as by building community through coordinating opportunities and events for people with intersex variations to meet and share knowledge and experiences.
"The updated IPSA website www.isupport.org.au will be a great resource for the whole community to learn more about the 'I' in the LGBTIQ acronym, while our membership will have access to a range of online extras through password-secured access," said Elise.
IPSA, along with Australia's other leading intersex organisation Intersex Human Rights Australia (IHRA), has created a range of Intersex Awareness Day resources for general use and promotion.
Annual IPSA membership is only $20 for individuals and free for people living with an intersex variation in the Global South as defined by the World Health Organisation.
Intersex Awareness Day on the 26th of October is an internationally observed awareness day designed to highlight human rights issues faced by intersex people.
IPSA is a registered Health Promotions Charity with DGR status to allow tax deductible donations.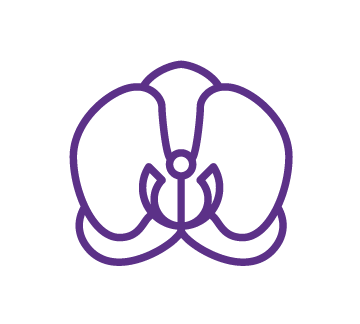 Submission to the Australian Human Rights Commission
October 2018: The AISSGA has made a submission to the Australian Human Rights Commission on protecting the rights of people born with variations in sex characteristics in the context of medical interventions. You may read our submission here.
The Australian Human Rights Commission is conducting a project that considers how best to protect the human rights of people born with variations in sex characteristics — in the specific context of non-consensual medical interventions.
The aims of the project are to:
identify key issues and obtain perspectives on current practice by consulting with various stakeholders, including individuals born with variations in sex characteristics, advocacy groups, medical professionals and representatives from federal, state and territory governments
evaluate the current approaches taken to medical interventions in Australia and other jurisdictions using a human rights-based framework
develop recommendations for a nationally consistent human-rights based approach to decision-making about medical interventions.
Affirm the Darlington Statement
March 2018: Australian and New Zealand intersex activists met again in Sydney to further develop the intersex human rights agenda as set out in the Darlington Statement. Individuals and organisations are encouraged to affirm the statement as allies.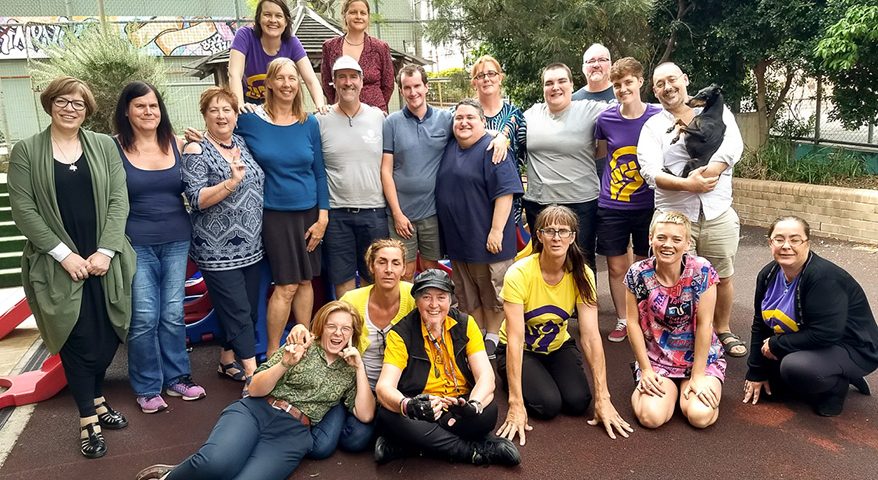 Intersex on Insight
November 2017: Various members of the AISSGA and friends appeared on a controversial episode of SBS Insight. The full version is now available to view online.
The 4th International Intersex Forum
April 2017: The AISSGA was fortunate to be represented by our President Bonnie Hart and Vice-President Tony Briffa at the Fourth International Intersex Forum (FIIF), the largest global intersex human rights forum to date, which was held between the 20th and 23rd of April 2017 in Amsterdam, The Netherlands.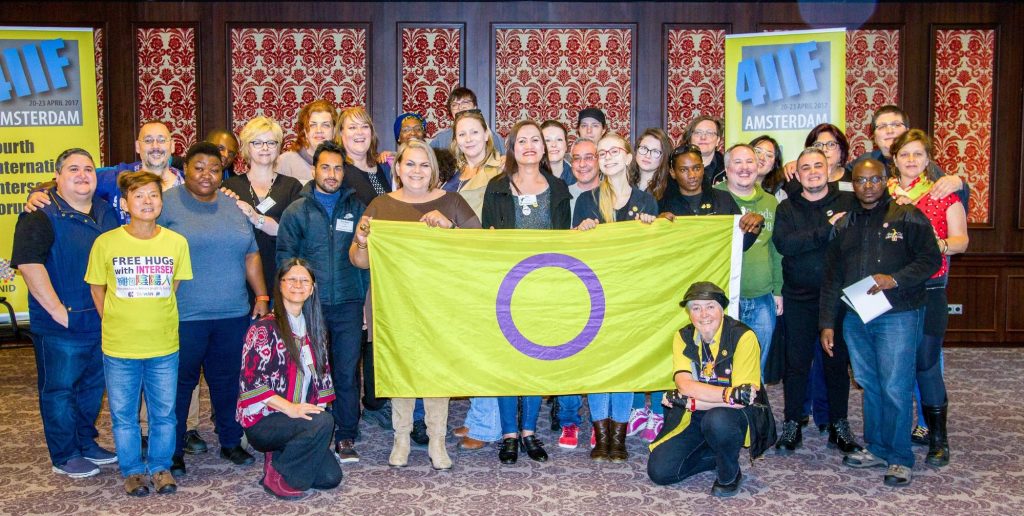 Photo credit: Ins A Kromminga
"The FIIF was an extraordinary opportunity to meet and connect with intersex activists from each region of the globe," said Bonnie. "The scale diversity in the forum in terms of bodies, identities and lived experiences was only paralleled by the singularity of our intention to protect intersex people's human rights."
Fourty representatives of intersex organisations and independent advocates from Africa, Asia, Europe, Post-Soviet countries, Latin America and the Caribbean, North America, and Oceania converged on Amsterdam for the forum to update and share information around the plight of intersex people around the world.
Bonnie Hart spoke to the ongoing human rights violations against people with intersex variations: "There is so much work to do in each of our regions and on the international stage to ensure the issues affecting our community receive the attention they require and that appropriate legal protection and effective support is established to end the harmful practices of intersex genital mutilation which still occur to this day, on every continent."
Delegates at the forum acknowledged that funding is essential for effective interventions against human rights abuses to continue globally.
"This work is difficult but so very necessary, and our intersex organisations need better resourcing to meet the challenges ahead. The International Intersex Forum was an eyeopening and triggering experience for me personally, but connecting with other people I had only ever know online has strengthened my understanding of the global intersex landscape and given me confidence to continue working on behalf of the intersex community in Australia."
In order to increase regional representation, the Fifth International Intersex Forum is slated to take place in the southern hemisphere.
The 4th International Intersex Forum would not have been possible without the assistance of a number of organisations, including the Astraea Lesbian Foundation for Justice Intersex Human Rights Fund, COC Netherlands, Mama Cash, Open Society Foundations, Netherlands Netwerk Intersekese/ DSD (NNID) and International Lesbian Gay Bisexual Trans and Intersex Organisation (ILGA).
Darlington Statement
March 2017: Over 20 intersex organisations and individuals met to formulate an Australia / New Zealand consensus statement on the human rights of people with variations of sex characteristics Thursday 2 - Frday 3 March 2017.
You can access the report here.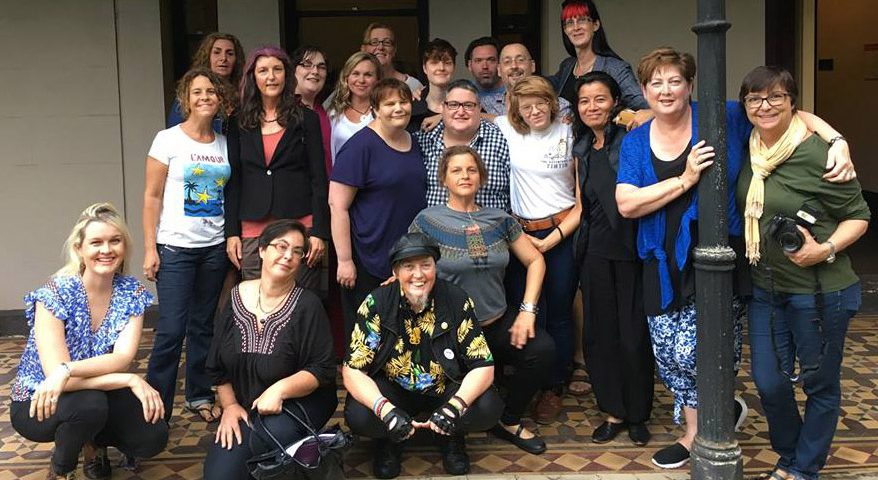 More than 20 intersex advocates from Australian and Aotearoa/New Zealand intersex organisations, along with other independent activists came together at a two-day retreat in Darlington, Sydney, on 2-3 March. A year in the making, the collaborative event also led to the issuing of the "Darlington Statement", outlining key priorities including legal reform to recognise our bodily autonomy, effective rights-based oversight of clinical decisions, alongside access to affirmative health care and the importance of peer support.
The Statement reads: "Current forms of oversight of medical interventions affecting people born with variations of sex characteristics have proven to be inadequate."
As well as a call for effective oversight and standards of care that respect our human rights and bodily autonomy, we call for greater respect for our diversity: heterosexual or not, identifying with legal sex assignment at birth or not, whatever our legal sex and our gender, we need respect, and effective protection from discrimination on grounds of sex characteristics.
Bonnie Hart, president of AIS Support Group Australia (AISSGA) states, "The coming together of so many different intersex people from around Australia and Aotearoa/New Zealand is cause for celebration in and of itself. However the penning of the Darlington Statement has made this intersex community retreat absolutely historic. This statement is a powerful and directive message addressing the key issues, currently affecting intersex people in our countries. By transparently outlining our common direction, the Darlington Statement has galvanised our community and the intersex movement generally. I feel so honoured to have been exposed to such insight and resilience and urge governments, health and social services to hear our voice and implement our demands."
Intersex people are born with physical or biological sex characteristics (such as sexual anatomy, reproductive organs, hormonal patterns and/or chromosomal patterns) that are more diverse than stereotypical definitions for male or female bodies. Up to 1.7% of people are born with such characteristics, the same as the proportion with red hair.
Monthly Meet-Up
December 2014: Open community social events for people with intersex variations will start in Sydney on 9 December 2014, in partnership with OII Australia.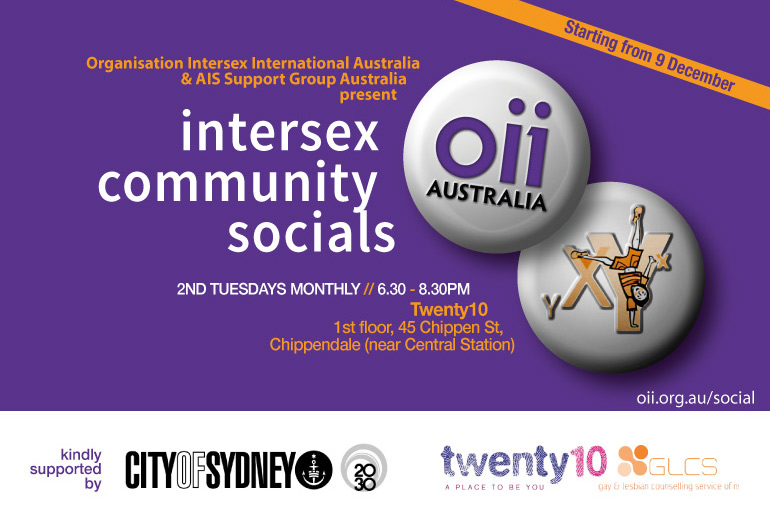 We will meet on the second Tuesday of every month, from 6.30pm to 8.30pm.
The free social events will take place in a private social space at Twenty10: 1st floor, 45 Chippen Street, Chippendale.
The space is close to Central and Redfern stations, and the building has lift access.
Anyone with an intersex variation is welcome, as are parents and families of children and adults with intersex variations. You don't need to be a member of either organisation to come along.
Food and drink (no alcohol) will be provided.
The events are very kindly supported by the City of Sydney and Twenty10.
Intersex Inclusion Guide for Employers
October 2014: Pride in Diversity has launched a world first – an intersex inclusion guide for employers. Produced in collaboration with Organisation Intersex International Australia (OII), the guide features testimony from members of the AIS Support Group Austrlaia Inc.
The guide aims to provide information about intersex to employers including protections related to intersex status in Commonwealth law, and disclosure in regards to medical issues in the workplace and travel as well as guidelines on inclusive language and advice on how to be an intersex ally.
AISSGA Marches in Sydney Gay and Lesbian Mardi Gras Parade
March 2014: Members Bonnie, Kylie and Sandra donned their finest festival gear and marched in the Sydney Gay and Lesbian Mardi Gras Parade alongside OII Australia and as part of a float sponsored by the Carmen Rupe Memorial Trust promoting TIQ inclusion.
The Sydney Mardi Gras is an annual pride parade attended by hundreds of thousands of people from around Australia and overseas. It is one of the largest such festivals in the world.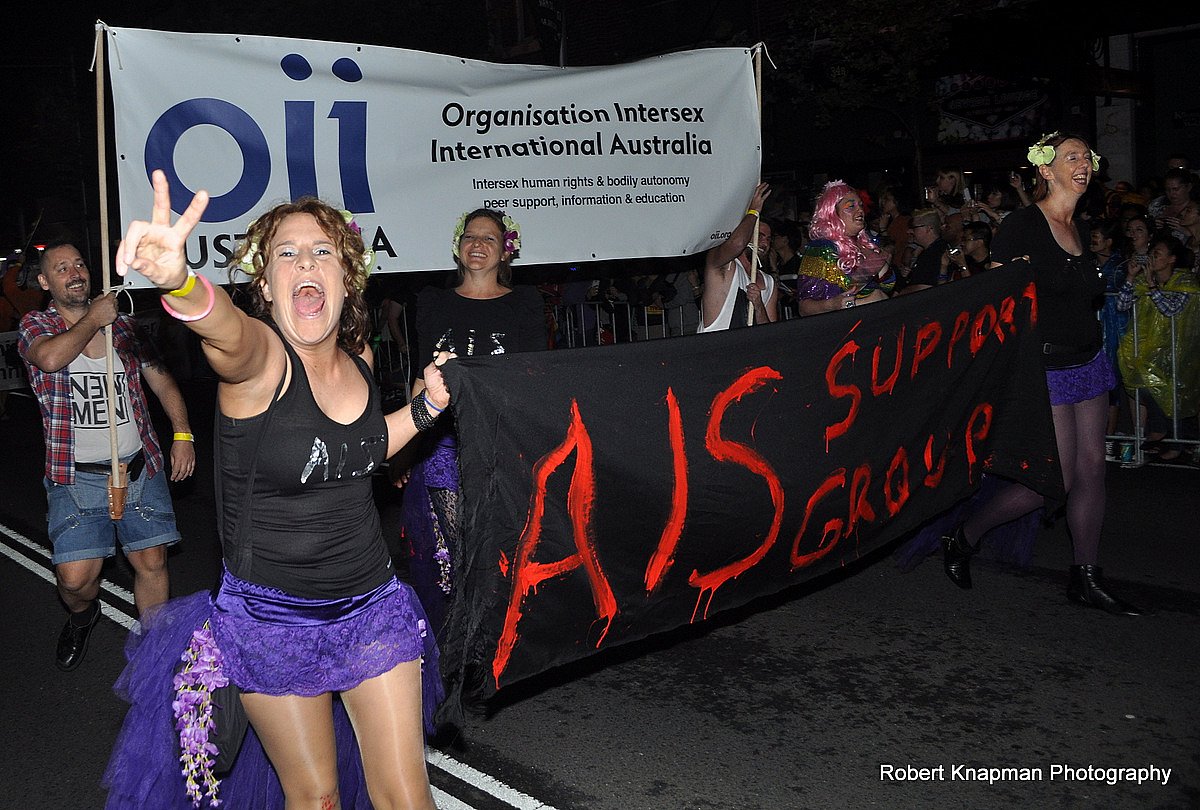 Involuntary or Coerced Sterilisation of Intersex People in Australia
November 2013: Press Release from the AIS Support Group concerning the recently released Senate Community Affairs Committee report into the "Involuntary or Coerced Sterilisation of Intersex People in Australia".
AISSGA represents at Health in Difference Conference
April 2013: AISSGA Secretary Phoebe Hart sat with other intersex activists in a historic panel to discuss health issues for people with intersex at Health in Difference Conference, Melbourne, 20 April 2013. The panel also included Morgan Carpenter; Mani Mitchell and Gina Wilson.
Many thanks to the organisers, the National LGBTI Health Alliance, for creating such a positive gathering.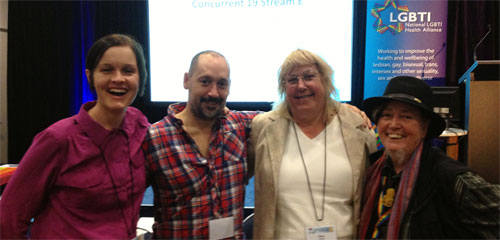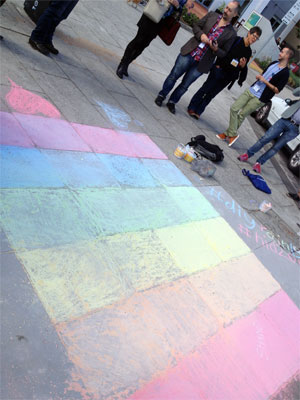 Senate Inquiry on involuntary sterilisation
March 2013: AISSGA Committee members Bonnie Hart, Sandra and Tony Briffa spoke for intersex rights on March 28, in particular for the rights of infants who might undergo cosmetic surgery on their genitals and sterilisation, at a special hearing of the Senate's Community Affairs Reference Committee inquiry into involuntary or coerced sterilisation of people with disabilities in Australia.
Mr Briffa said of the hearing, "I don't think I was prepared for the emotion and gravity of what we were doing, but I think our testimony was excellent, combined with that of the [National LGBTI Health] Alliance and OII."
Ms Hart added, "It felt very powerful and as if our message found its way home."
The terms of the inquiry's reference were expanded to include intersex people, which represents a great milestone in having government recognise the impacts of surgery during infancy, childhood and adult years for people with intersex conditions.
The draft transcript of our testimony can be accessed here.
Great response to Orchids: My Intersex Adventure on ABC1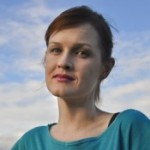 January 2012: Orchids: My Intersex Adventure, directed and produced by long-standing AISSGA committee member Phoebe Hart, enjoyed a successful outing on national television on the 29th of January.
"There was so much wonderful feedback from the general public all around Australia," noted Ms Hart. "I really feel Australia accepts people with intersex variations as part of our diverse community."
You can order a DVD copy of the award-winning documentary by emailing hartflicker Moving Pictures.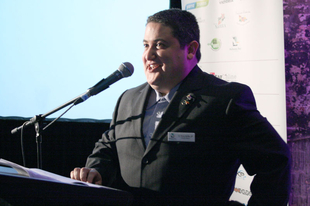 Melbourne elects Australia's first intersex Mayor
December 2011: Melbourne has Australia's first openly intersex Mayor following the election of long time queer community supporter and advocate Councillor Tony Briffa to the top position at the City of Hobsons Bay at the end of November.
Not being associated with any particular political party, Tony Briffa is an independent councillor whose focus has remained on representing his community (where he has lived all his life), community diversity and environmental issues.
Speaking enthusiastically at the launch of the Midsumma 2012 program on the weekend before the Hobson's Bay election, Briffa who was a councilor at the time, said he was proud to be a member of the queer community and excited about the involvement of the city he represented in the full cultural life of Melbourne.
At the launch, he announced his intention to run for mayor, promising that should he get the top mayor position that he would be attending Victoria's Pride March in February 2012 in full mayoral robes. Since officially becoming Mayor of the city of Hobsons Bay, Briffa has re-confirmed his intention to march at Pride March in the official robes.
The City of Hobsons Bay, which includes the suburbs of Altona, Brooklyn, Laverton, Newport, Seabrook, Spotswood and Williamstown, has played an increasingly significant role in Melbourne's queer cultural celebration the Midsumma Festival over the past few years, becoming a major hub of the 2012 program.
"I am excited about the future of our community and look forward to serving the city with enthusiasm and pride," Briffa said following his election.
National LGBTI Health Alliance Board Member Gina Wilson says Briffa is inspiring. "Tony is an inspiration and a role model for a whole generation of intersex people, both those who have suffered early interventions and those who have come to their differences later in life," Wilson said.
"We share Tony's hope that his election will break down taboos associated with intersex differences. Tony is a wonderful example of how intersex people can overcome the devastating and unnecessary medical treatment meted out to so many intersex children, and go on to become champions of human rights and cultural diversity for everyone."
From SameSame by Travis de Jonk.
Gender 'X' on Australian Passports
September 2011: You've probably heard about the Federal Australian government's announcement regarding passports this month. In media reports, it claims intersex people, who are biologically not entirely male or female, will be able to list their gender on passports as "X."
The AISSG Australia has been contacted by various media outlets to comment and we have responded by telling them that the announcement by the Commonwealth is laudable but largely insignificant for people with genuine intersex conditions.
Australians with intersex conditions have been able to get the sex on our passports corrected for years irrespective of surgery. The recently announced changes are of most benefit to people of transsexual background.
For more information on the differences between transsexualism / transgender and intersex, please refer to the following link.
AISSGA Committee Member attends the USA AIS Group's Conference
July 2011: Previous AISSG Australia President and current Secretary Phoebe attended our sister group's conference in Seattle this year. Over one fifty women, teens, children, families and spouses gathered in Seattle for four days of support, education and fun.
"It was such a great experience meeting so many new friends and learning in such a supportive environment," says Phoebe. "I am particularly looking forward to the 'meeting of the tribes' -- a global hook up of all AIS support groups from around the world slated for 2013 in Las Vegas. I will definitely be attending that one!"
"The AISSG USA also has a new name and new website. It's now the AIS-DSD at http://www.aisdsd.org/."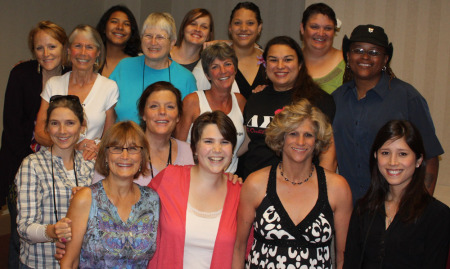 AISSGA representatives attend the Australasian Pediatric Endocrine Intersex (DSD) Workshop in Melbourne
April 2011: Three delegates from the AISSG Australia attended a landmark workshop held by the Australasian Paediatric Endocrine Group (APEG) in Melbourne this month.
The theme of the workshop was "Decision making about surgery for infants and children with disorders of sex development: When is court authorization needed?". Special guests included the Chief Justice of the Family Court of Australia, The Hon. Diana Bryant and former Chief Justice of the Family Court, the Hon. Alastair Nicholson AO. A range of health professionals and other experts from all over Australia also attended and gave their positions on the matter on surgery on infants with intersex.
AISSGA Vice President Tony Briffa also presented the views of the AISSG Australia to the assembled crowd, and later he said, "I think the AISSGA has again asserted itself as the leading intersex organisation in terms of advocacy and the law."
"Our lobbying can be used to assist medical and legal professionals and institutions to arrive at an acceptable framework for the approval of surgeries for children with intersex conditions, which are entirely consistent with the legal and human rights requirements."
AISSGA participates in consultation to protect from discrimination on the basis of sexual orientation and sex and/or gender identity
November 2010: The AISSG has responded to an invitation from the Australian Human Rights Commission to participate in a consultation regarding the possible inclusion in federal anti-discrimination law of protections against discrimination on the basis of sexual orientation and sex and/or gender identity.

For full details about the consultation including the discussion paper and the consultation questions can be found here.
To download a copy of the AISSGA submission to AHRC prepared by Mr Tony Briffa, please click here.
Orchids: My Intersex Adventure premieres at the Brisbane International Film Festival
November 2010: The long awaited autobiographical documentary film by AISSG Australia committee member, Phoebe Hart, premiered at the Brisbane International Film Festival on Saturday 6 November to a packed house. The film centres on Phoebe's story of having a intersex condition (AIS) and how it has shaped her life.
More information about the movie can be found here.
Update: Orchids was voted #1 of the BIFF Top Ten by audiences at the festival!
Same-sex adoption bill passes NSW Parliament
ABC Online reports that the New South Wales Parliament has passed legislation allowing same sex couples to adopt.
The bill divided MPs who were given a conscience vote and it was pushed back and forth between both houses as each sought to make amendments. Under the final provisions, faith-based adoption agencies will be exempt from anti-discrimination considerations.
Also, people giving up children for adoption will have greater certainty that their preferences regarding prospective parents will be met. Labor frontbencher Frank Sartor says a compromise was reached that finally everyone could support.
"I think we ended up with better law as a result of the arguments that we had," he said. "But it did take two weeks of debate and wrangling."
Sydney's Lord Mayor and Independent MP Clover Moore says the change has been a long time coming.
"This reform was recommended by the Law Reform Commission in 1997," she said. "I moved this reform in the house in 2000 but it's taken all this time, but finally we got the vote yesterday."
Minister for Family and Community Services Linda Burney harbours no doubt that the changes will benefit children waiting for adoption. Ms Burney says it will help many children who would have stayed with gay foster parents until they were 18-years-old.
"They want to be adopted they certainly understand that it's going to be much more stability for them," she said. "It seems to me that the most vulnerable children in hours state need the same legal status and the same recognition as other children and that's what this bill will achieve."
Queensland girl allowed gonadecomy after Family Court ruling
April 2010: The parents of a 13-year-old girl with the 46XY genotype and ingunial testes successfully petitioned the Family Court in Queensland for permission for their daughter to have surgery to remove her gonads. A full report on the case can be downloaded here.
As AISSGA's Treasurer Tony Briffa states: "Reading [about the Family Court decision] brings me much satisfaction because I know it's the result of the AISSGA's work over the last 10 years. To see children with intersex conditions finally treated with respect and dignity, and having their human rights upheld so that a court has to decide about irreversible, non-therapeutic surgeries is extremely satisfying."
News article on the case here.
AISSGA gives support to Pride in Diversity
April 2010: Pride in Diversity is Australia's first and only not-for-profit workplace program designed specifically to assist Australian employers with the inclusion of lesbian, gay, bisexual, and transgender (LGBT) employees.
The AISSGA recently made a submission of support to Pride in Diversity, stating that intersex is also a part of the GLBTI community and the group has members that work in many Australian industries including the Defence Force and the Australian Federal Police.
PiD is partnered with ACON - Australia's largest community-based LGBT health and HIV/AIDS organisation. ACON is hosting the HEALTH IN DIFFERENCE : DOING DIVERSITY 7th National LGBTI Health Conference this month, 29 April - 1 May 2010, in Sydney Australia. For queries regarding registration, please contact the Conference Secretariat: Ph. 02 82040764.
Lung Cancer Link to HRT
September 2009: Hormone replacement therapy is again under a safety cloud amid new findings that women taking the combined version of the treatment face a 70 per cent higher risk of dying from lung cancer, if they are first unlucky enough to develop it. More here.
AISSG Australia Website Archived by PANDORA
September 2009: This website has been archived for future generations by PANDORA. PANDORA, Australia's Web Archive, is a growing collection of Australian online publications, established initially by the National Library of Australia in 1996, and now built in collaboration with nine other Australian libraries and cultural collecting organisations.
Vile Campaign against South African athlete Caster Semenya
September 2009: There have been numerous reports recently in the mainstream media questioning the gender of young South African athlete Caster Semenya, suggesting that she has an intersex condition such as Androgen Insensitivity Syndrome. Sadly the 'row' about whether she is female, male or intersex has produced a great deal of reportage and opinion that is homophobic, racist, disrespectful, deceptive, fear-laden and shameful. The International Association of Athletics Federations' actions and motives for creating such an unnecessary furore must be questioned as well.
However, a number of articles are now coming out in support of Semenya around the world, many trying to clarify what intersex is and how the various conditions work, some even interviewing women with AIS (including AISSG Australia President Phoebe Hart and Vice-President Tony Briffa - see below "The uncertain sex: 'Nothing in nature is normal'"). Perhaps the controversy will lead to a greater understanding of intersex conditions by the wider population but at what cost to Semenya and her family? As Gordon Farquar points out in his blog for the BBC, Indian runner Santhi Soundarajan attempted suicide in 2007 after failing gender tests and being stripped of the silver medal she won in the 800m at the 2006 Asian Games.
If we accept the situation is: Semenya has three times the average testosterone levels for a woman (note "average" and not "normal"), does not have ovaries or a uterus, was born with internal testes, and has not had any medical intervention. This means her condition is likely to be Androgen Insensitivity Syndrome (AIS). She is not a drug cheat, but was born with a genetic condition and probably didn't even know about it.
Relevance of having ovaries/uterus and testes: Irrelevant. The fact Semenya does not have ovaries or a uterus does nothing to her status as a woman. Lots of women have their ovaries and uterus removed, or are born without them, and they are women. Semenya's testes are not the same as testes in a normal male. They cannot produce sperm and she cannot father children. Ironically, this is because they don't respond sufficiently to male hormones!
Relevance of testosterone level and a possible undue advantage: The level of testosterone means nothing if a person's body is unable to process and respond to it properly. That is exactly the case in women with AIS. In fact, if Semenya had a average response to testosterone (a type of androgen) she would not have AIS! The fact Semenya was born and raised as a girl means her genital appearance at birth and childhood was typical of a girl. This can only be the case if her response to androgens is poor. If her response was mild to good, she would have had masculinised genitalia. Semenya does not have an undue advantage because of her testosterone levels because the testosterone is not having an affect on her body. An Endocrinologist can confirm the reason her testosterone level is so high is that her body does not recognise the testosterone in her system, so is stimulating the testis to produce more testosterone. However, it is not having an affect. If it were, Semenya would have a beard, greater musculature, masculinised genital appearance, etc.
Law and the Olympics/World Championships Women with AIS are recognised under law as being women. They can marry, adopt and be legally entitled to all rights and responsibilities conferred to every other woman. There have been athletes in the Olympics and World Championships with AIS in the past, and they were accepted as women. The Sydney 2000 Olympics were the most liberal yet in terms of gender testing. The only difference in this case is that Semenya won. The fact her ethnicity tends to result in women looking more muscular certainly has also had an (albeit unspoken) influence in this case. Human rights This is clearly a case of discrimination on the basis of a genetic condition and sex (in some states this could also constitute discrimination on the basis of an impairment, physical variation, disability and gender identity).
The uncertain sex: 'Nothing in nature is normal'
Shameful treatment: South African athlete deserves better
I feel for Caster Semenya - I am a woman with male chromosomes
Science Is Forcing Sports to Re-examine Their Core Principles
'I was treated like a circus sideshow'
Semenaya should compete 'as woman'
Scant support for sex test on champion athlete
Gender is not just a matter of chromosomes
Where's the Rulebook for Sex Verification?
Think before you say 'she's a man'
Gender row athlete: What is intersexuality?
Gender dilemma: Was Semenya really first among equals?
HREOC and Intersex
July 2009: The Australian Human Rights Commission has just tabled a report on surgery on intersex infants and their human rights, after conducting an a project on human rights and sex and gender diversity in 2008. For more information please download the pdf version of the report located here.
Pandemic Flu
June 2009: There has been extensive media coverage over the past couple months regarding the spread of a new virus, also called "swine flu".

While we are still in the early stages of this flu outbreak, the World Health Organisation has advised that the infection can spread between humans and that appropriate precautions should be taken. The link here provides useful information about this flu.

If you are planning to travel overseas need to be alert to the risks associated with the destinations of your travel. If planning to travel you should closely monitor the Federal Government's Foreign Affairs website for travel advisories.

At this time, we can all help reduce the spread of any influenza virus by taking these steps recommended by health authorities:

· Wash hands frequently with soap and water or use an alcohol-based anti-bacterial hand gel.
· Wash hands prior to touching your eyes, nose and mouth.
· When coughing or sneezing, cover your mouth and nose with disposable tissues which should be disposed of immediately.
· Don't share items such as cigarettes, glasses or cups, lipstick, or anything which could be contaminated with respiratory secretions.
· Consult your doctor if you have flu–like symptoms and follow their instructions, including remaining at home and taking medicine as prescribed.
· If you don't have a doctor you can call 13 HEALTH (13 432 584).
· If planning to attend a medical practice or hospital Emergency Department, telephone beforehand so that they can arrange for you to be seen away from other people.
Altruistic Surrogacy to be Decriminalised
The Bligh Government will decriminalise altruistic surrogacy in Queensland, giving hundreds of women and couples the opportunity to have children. The announcement came 23 April, 2009. For the full story, please click here. Also visit our page on infertility.
Human Rights and Equal Opportunities Commission (HREOC) Gender Diversity Paper
The AISSG Australia had the opportunity to make a submission to HREOC's Gender Diversity Paper, and also to meet with the Commissioner in June 2008.
We welcome HREOC'S valuable contribution to the understanding and legal recognition of the ethical issues surrounding the gender diverse community. And it seems that HREOC have listened!
As recently reported in various News Limited newspapers, the Federal Government's human rights arm plans to invent a new official status called "intersex" adding it to male and female as a legally recognised gender.
The Human Rights and Equal Opportunities Commission wants people to be able to change their gender on their passports and driving licences even if they do not undergo surgery.
We look forward to working further with HREOC in the future.
'House' on the Rampage
An episode of House (Network Ten) entitled "Skin Deep" will be broadcast as a repeat on 11/6/08. The subject of the episode is an unwell supermodel under Dr House's care who turns out to have AIS.
Be warned the episode is not supposed to be a good or accurate reflection of AIS. Here is what the Intersex Society of North America says about this episode on their website:
For those who didn't see the show, allow me to summarize the painful episode. A 15 year old supermodel presents with mysterious symptoms, such as erratic behavior and uncontrollable twitching. Throughout the show, much is made of her feminine physique, with comments about her beautiful breasts and buttocks playing a lead role in the dialogue—even among the doctors. In the course of searching for a diagnosis, the medical team discovers that the young woman has been using heroin and that her father sexually abused her once while he was intoxicated. After ruling out effects from the heroin and possible post traumatic stress disorder resulting from the sexual abuse, House finally reaches the conclusion that the young supermodel must have cancer and a series of scans reveal internal testes that are malignant.
When House enters the hospital room to tell the young supermodel and her father what the team has found, he immediately questions the young woman's sex identity, calling her "him" and announcing that he will schedule "him" for surgery. In what appeared to be an incredibly bungled and inaccurate explanation of AIS, House tells the young woman and her father that she is really a man because her DNA says so. He refers to the young woman as a male pseudohermaphrodite and callously comments that the ultimate woman (the supermodel type) is really a man. When the young woman becomes upset and protests, crying out that she is a woman and ripping her hospital gown off to show her body to the doctor as proof, House quips that he's going to "cut her balls off" and then she'll be fine. In a final offensive twist, House tells the father that he supposes knowing his daughter is really a man will keep him from sexually abusing his daughter again because doing so would now be "gross" and would mean the father was a "homo."
From the use of the supermodel stereotype to represent a woman with AIS, to the backward assumption that chromosomes reveal the "truth" about sex, to the refusal to listen to the young woman when she clearly states that she is female, this episode mocks both people with Disorders of Sex Development and the work that the intersex community has done to end shame. The frequency of Disorders of Sex Development is grossly under-estimated in the program at one in 150,000 (one in 1,500 is a more accurate frequency). Dr. House also claimed, inaccurately, that ovaries differentiate into testes. And, of course, there's also the trivialization of sexual abuse and the homophobia inherent in House's comments about why the father won't abuse his daughter again. Frankly, the episode was so flawed that I can't even begin to address all its sins in this blog.
ISNA Board Member, Jane Goto, happens to be a woman with Complete Androgen Insensitivity Syndrome, the condition likely referenced in the "Skin Deep" episode of House. Jane found this program particularly disturbing and states "My biggest fear is that some poor gal with Androgen Insensitivity Syndrome or a similar condition is going to watch this program and be profoundly damaged as a result, wrapping herself in a shroud of shame, avoiding medical care and the excellent peer support currently available. Shame on the producers of this show and medical consultant/writers including David Foster MD for not only being mean-spirited but squandering a golden opportunity to inform."