Introduction
The AIS Support Group Australia Inc. fully supports the probable biological basis of transgender (or transsexualism), and recognises that trangender, like intersex and homosexuality, are all variations of sexual development.
We also support the rights of trans people to access proper medical attention and not merely be treated as people with psychological conditions.
However, the AIS Support Group Australia also aware of a small number of trans people who claim that transgender is intersex. This is, quite simply, incorrect.
We will continue to work with the Transgender community on common human rights issues, and hope our differences can be respected. For further details on what intersex variations are, please see our fact sheets.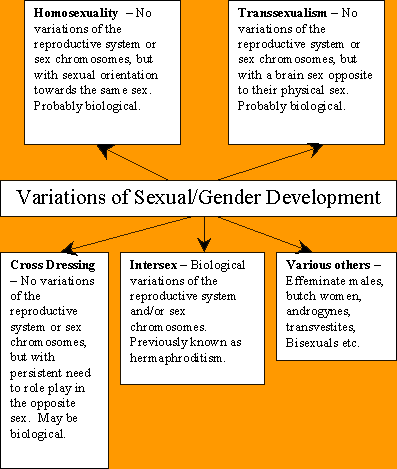 Australian Medical Association Definition of Intersex
The Australian Medical Association has provided a definition of intersex in their 'Sexual Diversity and Gender Identity' policy. They state:
"A person with an intersex condition is born with sex chromosomes, external genitalia or an internal reproductive system that is not exclusively either male or female. This word replaces hermaphrodite."
They have also openly supported the medical and biological fact that transgender is not intersex.
Law Reform
People with intersex conditions had a major victory in Australia when the definition of transgender was changed to remove people with intersex variations, and, for what was a world first, include a definition of intersex in legislation. The ACT (ALP) Government, with the support from the Democrats and Greens, passed the following definition of intersex in the Legislation Act 2001 (ACT):
An intersex person is a person who, because of a genetic condition, was born with reproductive organs or sex chromosomes that are not exclusively male or female.
This is particularly significant for the intersex community because of the insistence by a small number within the transgender community that falsely claim transsexualism is an intersex condition. Regardless of any possible biological basis of transsexualism (i.e. Gender Identity Disorder), people with transsexualism are not born with any variation of their reproductive organs and/or sex chromosomes, and have many different issues. As the Democrats MLA (Ms Roslyn Dundas) explained:
Intersex and transgender people are different, their needs are different, and the discrimination they face is different. Both of these communities often face discrimination and it is important our laws reflect their different needs.
An intersex person is one who is born with reproductive organs that are neither exclusively male or female, where as transgender identifies as a member for a different sex to the one they were born as.
Gender Identity Issues
Unlike transgender where 100% of people have gender identity issues, only a small portion of people with intersex variations (probably about 5-10%) have an issue with their gender. The vast majority of these cases are due to the assignment of an inappropriate sex of rearing in a child with an intersex condition, and these individuals can have their birth certificates fully corrected in all states in Australia.
World Health Organization Definition of Transgender
"Those who have a desire to live and be accepted as a member of the opposite sex, usually accompanied by a sense of discomfort with, or inappropriateness of, one's anatomical sex, and a wish to have surgery and hormonal treatment to make one's body as congruent as possible with one's preferred sex."
Links on Transgender
YGender - a social group based in Australia for transgender, genderqueer, and gender questioning young people, which run events and projects.
Transgender Victoria (TGV) - founded in the late 1990s to achieve justice, equity and quality health and community service provision for transgender people, their partners, families and friends.